Vintage B&L Ray-Ban Sunglasses
Ray-Ban was founded in 1937 by Bausch & Lomb (B&L) as a brand under which to design and manufacture sunglasses which incorporated advanced B&L lens technologies. The initial buyer was the U.S. Army Air Corps, but it was Lieutenant John MacCready who had the idea that would change the face of sunglasses. In 1920, MacCready returned from a balloon flying expedition complaining that the sunlight had done permanent damage to his eyes. He contacted Bausch & Lomb to ask them to use their optical expertise and technology to design sunglasses that would provide complete UV protection while also being stylish and comfortable to wear. On May 7, 1937, B&L took out the patent on the prototype which included "Anti-Glare" lenses and construction of a lightweight frame that weighed only 150 grams. The prototype sunglasses were made of a specially formulated metal alloy frame electroplated with permanently bonded gold along with precision ground and polished mineral glass lenses that filtered out both infrared and ultraviolet rays. Pilots in the Army Air Corps immediately adopted them as did pilots in the other branches of the armed forces. The "Ray-Ban aviator" style became synonymous with Ray-Ban, never more so than when General Douglas MacArthur landed on the beach in the Philippines during World War II and was photographed wearing Ray-Ban aviator sunglasses. Ray-Ban aviator sunglasses featured Bausch & Lomb mineral glass lenses in a shape that covered 2 to 3 times the area of the eye, and they were popular with both traditional ear stems and "paddle" ear pads as well as curved wire "Outdoorsman" or "Shooter" ear stems that looped around the ears and secured the fit in even the most active conditions.
| | |
| --- | --- |
| | |
| Original 1940s B&L Ray-Ban Sunglasses brochure! | Early B&L Ray-Ban frame and lens quality marketing! |
Bausch & Lomb also made thousands of Ful Vue safety goggles and sunglasses in the 1930s and 1940s, made under license from American Optical (AO). Today, B&L and AO Ful Vue are still avidly sought as steampunk goggles by motorcycle riders who appreciate the design innovation of ear stem attachment high on the frame, thus freeing up peripheral vision. Ful Vue goggles, eyeglasses, sunglasses were introduced to the public when Americans were first driving cars and needed to use their rear view mirrors to see road hazards. Even more famous, Bausch & Lomb essentially created aviator sunglasses with their iconic B&L Ray-Ban AN-6531 military aviator sunglasses produced originally for the US military in the years leading up to and during World War II. When the US Operation Deep Freeze expeditions to Antarctica commenced in 1957-1958, Bausch & Lomb outfitted expedition team members and the pilots that flew them in and out of the Arctic with Ray-Ban Deep Freeze sunglasses that remain arguably the rarest style of sunglasses ever produced. On some early production from this period, you will also find the ARCO mark, a Bausch & Lomb acronym that stands for Acid Resistant Coating and is a reference to the 12K layer of gold bonded on all sides of the frame.
There have been many famous Ray-Ban styles over the years transcending Ray-Ban aviator sunglasses, many coupled with new optical or frame advances. One of the early frame innovations c 1940s originally introduced for hunters and target shooters were B&L Ray-Ban bullet hole shooter sunglasses. Ray-Ban bullet hole shooters were so named because of the center ring, or "bullet hole" which was combined with the General's brow bar to improve the balance of the sunglasses on the face. The center frame ring element as first introduced was 8mm in diameter which produces a 3mm nose bridge gap. This offers the most protection from flying particles when shooting firearms and especially shooting automatic firearms. Such a small bridge brings the lenses very close together, protecting the eyes from burning powder fragments and metallic particles. In the 1940's through the 1960's, the 8mm ring was the standard and the 10mm ring the exception. From the 1970's to the 1990's, exactly the opposite would be true such that the 8mm ring version of Ray-Ban bullet hole shooters virtually disappeared from B&L Ray Ban's inventory.

Click to see the original Bausch & Lomb 1972 Ray-Ban Dealer Catalogue!
As for other styles, none became more aligned with pop culture than did Ray-Ban Wayfarer sunglasses designed by B&L optical designer Raymond Stegeman and first introduced in 1952 when their design was a revolutionary break from earlier sunglass styles. According to design critic Stephen Bayley, the "distinctive trapezoidal frame spoke a nonverbal language that hinted at unstable dangerousness, but one nicely tempered by the sturdy arms which, according to the advertising, gave the frames a 'masculine look.'" While popular in the 1950s and 1960s, Ray-Ban Wayfarer sunglasses attained the height of their popularity from celebrities who favored the style, from Audrey Hepburn in the 1961 movie Breakfast At Tiffany's to Tom Cruise and Val Kilmer in Top Gun. Bob Dylan was hardly ever seen not wearing his Ray-Ban Wayfarers in the 1960s, and other notable personalities who have been extensively photographed wearing Ray-Ban Wayfarers include Marilyn Monroe, John Lennon, James Dean, John F. Kennedy, Roy Orbison, John Belushi, and Andy Warhol. Vintage B&L Ray-Ban advertising was very effective in conveying their history with aviators, pilots, and celebrities.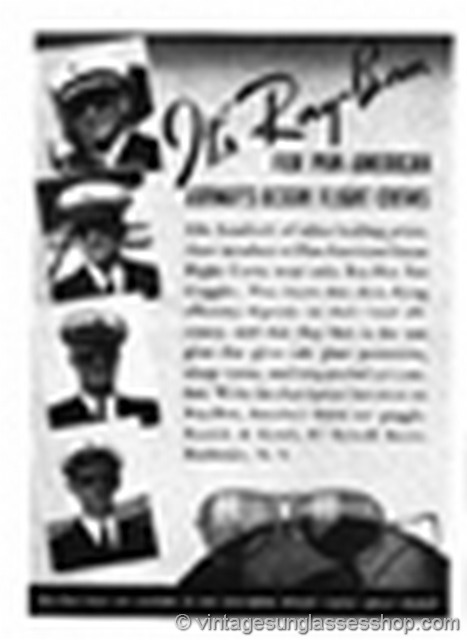 Click to see early B&L Ray-Ban Advertising 1940s - 1990s!
Ray-Ban introduced a number of innovations in lens technology over the years, and the Vintage Sunglasses Shop has collected plenty of original B&L Ray-Ban marketing materials from the 1940s onward. All vintage Ray-Ban sunglasses feature "precision ground lenses polished from crystal clear optical glass so they are free from distortion or any other flaw." Marketing material from the 1980s notes that Ray-Ban frames "are meticulously from specially alloyed metal or from plastics that are used in prescription eyewear frames." Among B&L's constant density lenses, the Ray-Ban G-15 neutral gray lenses transmit all colors equally so they retain their true values, providing 85% visible light absorption and 100% UV protection. Bausch & Lomb developed the G-15 in 1951 as a "neutral" sunglass lens, using a technology developed for Navy fighter pilots that mimics how the human eye reads color. While providing 100% UV protection, the G-15 renders colors true and easy on the eye. The gray-green G-15 lens has proved superior over time, with virtually no fading of tint, and it is still used in new Ray-Ban sunglasses. Ray-Ban B-15 high contrast brown lenses screen out blue light to improve contrast and sharpen details, providing 85% visible light absorption and 100% UV protection. The Bausch & Lomb G-15 XLT lens developed in the 1990s, known as the "natural vision" lens, absorbs colors equally across the spectrum and so allows colors to be seen as they truly are. The G-15 XLT lens is 14% lighter than the G-15 because it has been thinned for extra comfort, and like the original G-15 it provides 85% visible light transmission. Ray-Ban RB-3 green lenses feature absorption balanced with the eye's sensitivity to colors for peak acuity, with 71% visible light absorption and 100% UV protection.
While Revo and Vuarnet were also known for the quality and appearance of their mirrored lenses during the 1980s and 1990s, Bausch & Lomb arguably incorporated a wider range of coatings and innovation into their own mirrored lenses. The mirror finish was applied in either gradient or full mirror coating form to reflect light and add even more glare protection to a base sunglass lens, making them outstanding for high glare water and snow sports. Choices included:
G-31 Mirror: neutral gray full mirror lenses with 92% visible light absorption
G-31 Double Gradient Mirror: neutral gray DGM lenses with 77% center to 96% top and bottom visible light absorption
B-15 Double Gradient Mirror: high contrast brown DGM lenses with 85% center to 96% top and bottom visible light absorption
Ambermatic Double Gradient MIrror: photochromatic amber/brown to dark gray/brown DGM lenses with 35% to 85% center, 46% to 96% top and bottom visible light absorption
Ray-Ban sunglasses were marketed as "The World's Finest Sunglasses" which promoted the company's experience over more than 100 years of manufacturing scientific optical instruments. Quality control at the original Ray-Ban was a top priority, with lenses made from optical glass which had been "precision ground and polished to be "free of waves or any other defects that could distort vision and cause eyestrain and fatigue." Ray-Ban gold frames feature gold electroplating, sometimes with 10k, 12k, or even 24k gold, and the process ensures that the gold is permanently bonded to the core metal which was specially alloyed for both strength and malleability. It is important to note that Ray-Ban black frames were known as "black chrome" and similarly electroplated, so the black finish is not an enamel which could chip or wear off. The pinnacle of Ray-Ban frame quality was reached with the Bravura Arista frame, much stronger and more rigid than anything else Bausch & Lomb produced, and when combined with top of the line Ray-Ban RB-50 lenses you had the iconic luxury branding of Ray-Ban Ultra sunglasses.
We are often asked about what vintage Ray-Ban marks on gold filled frames means. As an example, a vintage B&L Ray-Ban frame with impressed marks B&L 1/10 12K GF indicates a frame with gold content of about 5% pure gold when you exclude the plastic parts, lenses, and screws. To be more exact, the frames are 5% pure gold, 2.5% copper for wear resistance to the gold finish, 2.5% silver to retain the yellow color of pure gold, and the balance magnetic steel in the core. The "GF" hallmark does in fact mean "Gold Filled," but when you consider the relatively small percentage of gold the frames contain and the fact that the gold is on the surface of the frame rather than the core you can see that the GF marking is somewhat a misnomer. It should also be noted that the "GF" mark is equivalent to the "G.O." (Gold Overlay) mark and the "RGP" (Rolled Gold Plate) mark all used at different periods. Each of these marks implies a gold content of at least 5% by weight. In this type of plating, a layer of gold is attached to the core metal by a combination of pressure, heat, and chemicals. This is the origin of the "Rolled" in RGP, i.e. the gold is literally rolled or pressed onto the core metal. This method differs from electroplating in that the gold content in electroplating is less than 1% by weight. The idea behind RGP is to put enough gold on the core metal such that there will be no wear through at least 30 years of wear. Obviously the process is better than expected as we've never seen a vintage B&L Ray-Ban gold filled frame with wear through to the finish. The bottom line is that a GF finish will last indefinitely with no significant wear to the gold plating at all. Remember that a 12K gold alloy of 50% gold, 25% copper and 25% silver has a hardness rating of 160. That's pretty hard compared to pure gold which has a hardness rating of just 20.
A few of the most notable variations of the Ray-Ban lens technology include the iconic Ray-Ban Diamond Hard lenses with a lens surface of amorphous diamond that is 10 times more resistant to scratching than ordinary glass, and Ray-Ban Changeables, photochromatic lenses which react to the sun's brightness to protect your eyes, darkening and lightening an amazing range of 75% range depending on light conditions. Ray-Ban Kalichrome shooter and outdoorsman sunglasses were yellow lens shooters designed for shooting sports conducted in hazy, foggy, and low light conditions. The yellow lenses actually intensify light and increase contrast, and wearing them on bright sunny days might hurt your eyes a bit but you will at least look cool. The shooter design is similar to the aviator but sits higher up on the face, and the space between lenses is separated by a circular ring that is referred to as the bullet hole, and it has cable temples to give a secure fit for active pursuits. Ray-Ban "smart" Ambermatic lenses adjust to the prevailing light. On cloudy and overcast days, Ray-Ban Ambermatic sunglasses are lightly tinted and amber colored to cut through haze and sharpen vision. On sunny, warm days they turn brown to block the glare, and on sunny, cold days they change to dark gray for superior protection from direct and reflected glare. Ray-Ban Sport Series sunglasses with Ace A-30 and G-20 Chromax lenses were a historic innovation in high performance sport sunglasses introduced in the early 1990s.
Another significant innovation was the launch of Ray-Ban Fantasees sunglasses which introduced "Ultragradient" lenses that were both Changeables (photochromatic) and top gradient with color tints. Indoors, they function as fashionable gradients tinted at the top to flatter your eyes, but outdoors they darken dramatically to protect your eyes from the sun. Ray-Ban Fantasees sunglasses were made of a new "light-as-air" glass lenses that provided comfort and distortion free vision for all day wear without fatigue or the weight of traditional glass lenses. Ray-Ban CATS sunglasses were designed for the serious sports scene. Many of the winter Olympic athletes were given Ray-Ban CATS sunglasses to wear during the 1980's and 1990's when Bausch & Lomb was the official worldwide sponsor for the Olympic games. Ray Ban CATS sunglasses are made to handle the toughest glare conditions with rugged, comport fit frames to assure best performance on water or snow, and they are often combined with B&L mirrored lenses to reflect light and add extra glare protection with a micro-thin coating to selectively pass and reflect wavelengths that create a multi-colored mirror effect.
Ray-Ban RB-50 lenses were always state of the art at Bausch & Lomb, a general purpose specialty lens for moderate to extreme glare conditions. The light absorption ranges from 80% to 90% and can extend to 95% under cold, bright conditions to make it excellent for skiing and other high glare snow sports. They provide 100% ultraviolet protection and filter out scattered blue light to enhance contrast and sharpen details with true color recognition. The rear of the lens has an exclusive, anti-reflective coating that reduces back glare and sunburn problems associated with some mirrored lenses. Ray-Ban Ultra polarizing technology used in the RB-50 Ultra lens means that when polarized light strikes the advanced polarizing element encased within the lens, an electromagnetic reaction occurs that traps and diffuses the intense glare with 99.97% efficiency. The RB-50 Ultra lens also adapts to changing light conditions for the brighter the sun, the darker the lens and the greater the glare protection - up to 92% absorption. The front mirror coating is a modified titanium monoxide coating that reflects direct sunlight and glare, and it filters enough blue light to cut through haze and sharpen details while retaining true color fidelity. And like all vintage B&L Ray-Ban lenses, they're made of optical quality glass, ground and polished to standards that exceed those of prescription eyewear and treated to resist shattering and scratching.
We are also asked a lot about characteristics and marks on real vintage Ray-Ban aviator sunglasses. The aviator frame should be solid and sturdy with de minimus wear to the gold plating regardless of the age of the aviators. You can find vintage aviators with the typical B&L Ray-Ban gold plating as well as aviators which are either 10k or 12k gold filled. In almost all cases, the top of the frame at the nose bridge will be marked with B&L Ray-Ban U.S.A. sometimes followed by the frame and lens size and sometimes followed with 10k GF or 12k GF designations, all etched in the metal of the frame. Most aviators will also have B&L Ray-Ban USA inscribed in the frame below the nose bridge as well depending on the design. The small etched BL in the lenses near the hinge points was not used in Ray-Ban sunglass lens production until the late 1970s, and the cursive white Ray-Ban trademark logo on the lens was introduced in late 1982 and subsequently present on all Ray-Ban sunglasses from 1983 onward.
Like many higher end consumer items, Ray-Ban sunglasses are extensively reproduced in Asia, so easily that a simple Google search will turn up Chinese and Malaysian web sites selling many styles of fake Ray-Bans. At the Vintage Sunglasses Shop, we take great care to vet every pair of vintage sunglasses we sell for period authenticity. There are various ways to identify fake Ray-Ban sunglasses if one knows what to look for. If you buy vintage sunglasses on auction sites, your chances of buying a fake are not insignificant.
Ray-Ban was acquired by the Luxottica Group c 1999, also now the owner of many of the world's most famous brands of sunglasses including Revo, Oakley, Oliver Peoples, Persol, Chanel, Versace, DKNY, and more. The Vintage Sunglasses Shop exclusively sells vintage Bausch & Lomb Ray-Ban styles and models produced c 1998 and earlier. The classic and eclectic frame styles produced during this period coupled with the most significant advances in B&L lens technology easily explain why these vintage Ray-Ban sunglasses styles have endured the test of time.
You can see our entire selection of vintage B&L Ray-Ban sunglasses for sale in our Vintage Ray-Ban sunglasses Photo Gallery or use our award winning website search below. You can also find original B&L Ray-Ban accessories including display cases, pins, hats, croakies, and more. Thanks for visiting and shopping at the Vintage Sunglasses Shop, the world's largest vintage sunglasses store online since 1998.
No Fakes, No Lies, No Reproductions, Save 10% Plus Free Shipping
Get cool and eclectic vintage fashion style and quality in men's and women's sunglasses, and don't be fooled by fakes. See our entire inventory of vintage B&L Ray-Ban sunglasses all on one page in our Ray-Ban sunglasses photo gallery or with complete descriptions in our listing gallery.
Tell your friends about us on Facebook or Twitter, then enter promo code 444971 at checkout to save 10% on your entire order plus always free shipping in the US and subsidized express shipping worldwide.
We buy finer vintage designer sunglasses that meet our standards; learn how to sell your vintage sunglasses at good prices with no fees, hassles, or uncertainties.
Visit us on Facebook at Vintage Sunglasses Shop, Vintage Revo Sunglasses, and Vintage Vuarnet Sunglasses, and thanks for visiting and shopping at the Vintage Sunglasses Shop!