American Optical and B&L Bausch & Lomb Ful Vue Goggles and Sunglasses
Ful-Vue frames were a significant innovation in the eyeglass industry starting in 1930. Until the early 1930's, the ear stems of almost all metal eyeglasses and sunglasses joined the frame at the centerline, halfway between the top and bottom of the frame. This had been more or less true for hundreds of years, long before glasses came within the reach of the average person. Ful-Vue frames changed all that.
In the late 1920's, the American Optical Company (AO), the largest manufacturer of eyewear and prescription lenses in the world at the time, filed patents on their new "Ful-Vue" design. The Ful-Vue idea was to raise the point where the arms joined the frame, taking them up and out of the way of the wearer's side vision. This innovation came at the same time many Americans were driving cars for the first time and thus were also using rear view mirrors for the first time. American Optical was convinced that Americans would be safer wearing Ful-Vue frames since there would be no temple blocking the wearer's view of the rear view mirror. They also thought that Americans could be convinced they would be more attractive wearing Ful-Vue styles, with no "line drawn across the face" by the ear stems. On some early production from this period, you will also find the ARCO mark, an acronym that stands for Acid Resistant Coating and is a reference to the 12K layer of gold bonded on all sides of the frame.
The lenses used in American Optical Ful Vue sunglasses were "super armorplate" Calobar lenses designed to "keep your eyes safe from glare and impact." Introduced at a time when most sunglasses and goggles had poor lenses that offered little to no eye protection, AO Calobar lenses and their equivalent made by Bausch & Lomb had advanced safety and optical properties including the following taken from an early American Optical marketing brochure:
"Give greater resistence to impact from chips, flying particles, and other severe impact hazards"
"Absorb the invisible yet dangerous ultraviolet and infrared rays"
"Protect against occasional exposure to welding arcs"
"Cut down visible light to a point most desirable for comfortable vision"
Armed with a strong patent and deep advertising pockets, AO set out to make Ful-Vue a household word. They took out ads in most major publications of the era extolling the virtues of this new frame design. Did you want to protect your family when driving, and be a better, safer citizen with the superior peripheral vision Ful-Vue frames allowed? Or did you want to be a danger to yourself and others on the road? Did you want to be attractive in a Ful-Vue frame, or did you want to be plain looking folks who wore old-fashioned centerline frames? By 1940, if you lived in the US and wanted to be thought of as a responsible citizen and an attractive person, you probably wore Ful-Vue frames. Note the 1940s ad below featuring a woman wearing Ful Vue eyeglasses and how the ear stems attach to the top of the lens versus the center: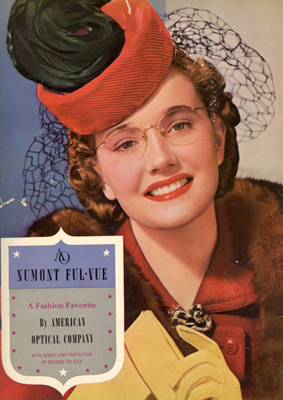 American Optical frame sales doubled from 1934 to 1944, due in large part to the huge success of Ful-Vue frames. By the mid 1930s, Ful-Vue frames were so popular that other companies began having trouble selling their old-fashioned centerline designs. ArtCraft, Continental Optical, ShurOn, and most notably B&L Bausch & Lomb were soon paying American Optical royalties to make their own versions of the growing Ful-Vue line of frames and safety goggles.
You can see our entire selection of vintage American Optical and B&L Bausch & Lomb Ful Vue sunglasses and steampunk safety goggles here.
No Fakes, No Lies, No Reproductions, Save 10% Plus Free Shipping
Get cool and eclectic vintage fashion style and quality in men's and women's sunglasses, and don't be fooled by fakes. See our entire inventory of vintage B&L Ray-Ban sunglasses all on one page in our Ray-Ban sunglasses photo gallery or with complete descriptions in our listing gallery.
Tell your friends about us on Facebook or Twitter, then enter promo code 444971 at checkout to save 10% on your entire order plus always free shipping in the US and subsidized express shipping worldwide.
We buy finer vintage designer sunglasses that meet our standards; learn how to sell your vintage sunglasses at good prices with no fees, hassles, or uncertainties.
Visit us on Facebook at Vintage Sunglasses Shop, Vintage Revo Sunglasses, and Vintage Vuarnet Sunglasses, and thanks for visiting and shopping at the Vintage Sunglasses Shop!