Ray-Ban Ambermatic Sunglasses
Bausch & Lomb Ambermatic lenses for their Ray-Ban sunglasses were the first true photochromatic sunglass lens which when combined with Ray-Ban gold plated and 10k and 12k gold filled shooter and outdoorsman frames became a classic of vintage sunglasses design and optical quality innovation. The B&L Ray-Ban Ambermatic lens has photochromatic properties that change density depending on the degree of both brightness and temperature. Taking its name from the color of the lens, Ray-Ban Ambermatic sunglasses change from amber yellow to gray and darker and denser in bright light conditions and in colder temperatures. This is exactly what you would want and expect in bright sunlight or at a ski resort when glare off the snow can become a real problem. The Ray-Ban brand was purchased from B&L by the Italian conglomerate Luxottica in 1999 after which no more B&L Ray-Ban Ambermatic sunglasses or shooters were produced. The small etched BL in the ambermatic lenses near the hinge points was not used in Ray-Ban sunglass lens production until the late 1970s, and the cursive white Ray-Ban trademark logo on the lens was introduced in late 1982 and subsequently present on all Ray-Ban sunglasses including Ambermatics from 1983 onward up until the acquisition by Luxottica. These earlier B&L Ambermatic lenses were of much higher quality, changed color faster, and had a wider range of density than anything produced before or since.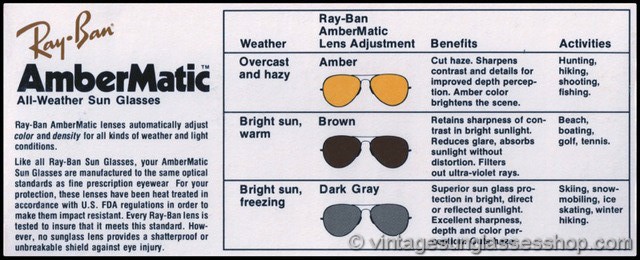 Ray-Ban Ambermatic lenses were often paired with the classic aviator sunglasses frame as well as Outdoorsman or Shooter frames, similar to aviators but with cable (wire) ear stems and an additional bar over the bridge referred to as the sweat bar that provided more comfort and made the frame stronger. While pilots initially wore Ray-Ban aviator sunglasses with the green G-15 lens in the 1940's, 1950s, and 1960s, more and more pilots, aviators, sailors, and hunters discovered Ambermatic sunglasses. They could offer a greater contrast between clouds and sky and made it easier to see objects while at the same time progressively blocking the light and providing 100% UV protection. Ray-Ban Ambermatic sunglasses have been called "smart sunglasses" given how they adjust to the prevailing light conditions at the time. On overcast and rainy days, Ray-Ban Ambermatic sunglasses have a light amber tint to cut through haze and sharpen vision. On warm and sunny days, they turn progressively more brown to block the glare. On cold and sunny days, the Ray-Ban Ambermatic aviator sunglasses and shooters change to dark gray for better protection from direct and reflected glare. On cloudy days, Ambermatic sunglasses change to a lighter brown. Following on the success of Ambermatic sunglasses, B&L Ray-Ban subsequently introduced the Changeables line of photochromatic sunglasses and shooters which offered very similar properties but in which the density color change was even more dramatic than in the Ambermatics.
You can see our entire selection of vintage B&L Ray-Ban sunglasses for sale in our Vintage Ray-Ban sunglasses Photo Gallery or use our award winning website search below. Thanks for visiting and shopping at the Vintage Sunglasses Shop, the world's largest vintage sunglasses store online since 1998.
No Fakes, No Lies, No Reproductions, Save 10% Plus Free Shipping
Get cool and eclectic vintage fashion style and quality in men's and women's sunglasses, and don't be fooled by fakes. See our entire inventory of vintage B&L Ray-Ban sunglasses all on one page in our Ray-Ban sunglasses photo gallery or with complete descriptions in our listing gallery.
Tell your friends about us on Facebook or Twitter, then enter promo code 444971 at checkout to save 10% on your entire order plus always free shipping in the US and subsidized express shipping worldwide.
We buy finer vintage designer sunglasses that meet our standards; learn how to sell your vintage sunglasses at good prices with no fees, hassles, or uncertainties.
Visit us on Facebook at Vintage Sunglasses Shop, Vintage Revo Sunglasses, and Vintage Vuarnet Sunglasses, and thanks for visiting and shopping at the Vintage Sunglasses Shop!