Vintage Oliver Peoples Sunglasses
Oliver Peoples was founded in 1987 with the opening of its first boutique in the heart of West Hollywood on Sunset Boulevard,.The unique culture of LA in fashion, film, art, music was an influence on the brand from the beginning. The first Oliver Peoples designs were inspired by an estate collection of vintage American-made eyewear purchased by the founders of the brand in the late 1980's and included an array of natural tortoise shell hues with discreet branding and subtle design details.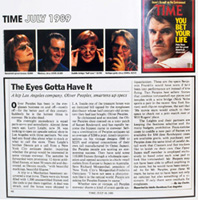 Click to read about the Oliver Peoples Vintage Collection and see early Oliver Peoples advertising!
The company opened its first boutique in West Hollywood, CA and first appeared on the cover of German Vogue in 1987 and subsequently featured in various  fashion magazines, including GQ, Vogue, Elle, Esquire and Vanity Fair. Characterized by subtle detailing, retro aesthetics, and high-quality materials, Oliver Peoples frames and sunglasses are popular with celebrities, including Brad Pitt, Angelina Jolie, Tom Cruise, and Larry David - among them customers of the Vintage Sunglasses Shop.
Bruce Willis wears a variant of Oliver Peoples O'Malley sunglasses in the 1997 film The Jackal, and Brad Pitt wore three variants of the Oliver Peoples 523 style in the 1999 film Fight Club as the character Tyler Durden. In the 2000 film American Psycho, the protagonist Patrick Bateman mentions that his yuppie colleague, Marcus Halberstram, has the same penchant for Oliver Peoples glasses as he does. Bateman and several of his colleagues are then depicted as each owning an identical pair of the same Peoples' frame. Frontman Bono, of U2, wore the Oliver Peoples "Amp" frame off stage during the 2001 Elevation Tour and wore the Oliver People's "The Row" frame on and off stage during 2017 Joshua Tree tour and 2018 eXPERIENCE and iNNOCENCE tours.
In the 2001 movie Ocean's Eleven, Brad Pitt is seen wearing the Oliver People's "Whistle" frame during the Elliot Gould lunch scene with George Clooney and at the race track with Carl Reiner. In the Season 6 finale of Entourage Vincent and Johnny Chase are seen buying sunglasses from the flagship Oliver Peoples store on Sunset Boulevard, before their trip to Italy.
We could go on but you get the picture - for many years Oliver Peoples sunglasses have been popular with celebrities, athletes, and most anyone who appreciates finely crafted understated detail in some of the highest quality eyewear ever produced. While many of these styles are being reproduced, the Vintage Sunglasses Shop specializes in early Oliver Peoples designs pre-2000 when most production was still done in Japan. And don't be fooled by fakes - many famous OP designs like the O'Malley and 523 are actively counterfeited and sold on online auction websites.
You can see our entire selection of vintage Oliver Peoples sunglasses for sale in our Vintage Oliver Peoples Sunglasses Photo Gallery or use our award winning website search below. Thanks for visiting and shopping at the Vintage Sunglasses Shop, the world's largest vintage sunglasses store online since 1998.
No Fakes, No Lies, No Reproductions, Save 10% Plus Free Shipping
Get cool and eclectic vintage fashion style and quality in men's and women's sunglasses, and don't be fooled by fakes. See our entire inventory of vintage Cazal sunglasses all on one page in our Cazal sunglasses listing gallery.
Tell your friends about us on Facebook or Twitter, then enter promo code 444971 at checkout to save 10% on your entire order plus always free shipping in the US and subsidized express shipping worldwide.
We buy finer vintage designer sunglasses that meet our standards; learn how to sell your vintage sunglasses at good prices with no fees, hassles, or uncertainties.
Visit us on Facebook at Vintage Sunglasses Shop, Vintage Revo Sunglasses, and Vintage Vuarnet Sunglasses, and thanks for visiting and shopping at the Vintage Sunglasses Shop!