The Bollé story began in the small town of Oyonnax, France in 1888 where Seraphim Bollé started his company by first manufacturing combs and hair ornaments from the boxwood and horn indigenous to the region. After WWII, Bollé led the way in molding nylon to the highest standards in the world. Safety glasses and goggles were added to the Bollé line in 1950, and in 1956 Georges Bollé created the famous nylon "cat-eye" sunglasses. In 1960, ski goggles were first marketed by Bollé and from there they led the industry in product innovations as the Bollé family took the business from a small cottage industry to one of the world's most prominent manufacturers of protective eye-wear. Bollé sunglasses and goggles have long been known for their lightweight, shatterproof lenses, virtually indestructible Hydralon frames (a derivative of nylon), and sport-specific technologies.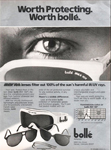 Click to see our vintage Bolle Sunglasses Advertising Gallery!
Now, over 100 years later, Bollé products are distributed and worn all over the world. Bollé has developed particular strength in the sports specialty markets of snow sports, golf, tennis and marine, as well as eye-wear that meets everyday needs. But while since 1888 this precision eyewear company had been crafting sunglasses, ski goggles, and safety glasses of the finest materials available, the company is now owned by the Bushnell Corporation which has changed hands a number of times subsequently. Most everyone in the know would agree there is no substitute for Bolle sunglasses production during the golden years of the 1970s through the 1990s, the era and exclusive focus of the Vintage Sunglasses Shop.
You can see our entire selection of vintage Bolle sunglasses for sale in our Vintage Bolle sunglasses Photo Gallery or use our award winning website search below. Thanks for visiting and shopping at the Vintage Sunglasses Shop, the world's largest vintage sunglasses store online since 1998.
No Fakes, No Lies, No Reproductions, Save 10% Plus Free Shipping
Get cool and eclectic vintage fashion style and quality in men's and women's sunglasses, and don't be fooled by fakes. See our entire inventory of vintage Cazal sunglasses all on one page in our Cazal sunglasses listing gallery.
Tell your friends about us on Facebook or Twitter, then enter promo code 444971 at checkout to save 10% on your entire order plus always free shipping in the US and subsidized express shipping worldwide.
We buy finer vintage designer sunglasses that meet our standards; learn how to sell your vintage sunglasses at good prices with no fees, hassles, or uncertainties.
Visit us on Facebook at Vintage Sunglasses Shop, Vintage Revo Sunglasses, and Vintage Vuarnet Sunglasses, and thanks for visiting and shopping at the Vintage Sunglasses Shop!