Face Shape Guide: How To Select The Best Vintage Sunglasses For Your Face
Measuring the dimensions of your face will help give you an idea of what size and shape your face is. To measure your face, stand in front of a mirror and follow these steps:
Step 1: Measure Cheekbone to Cheekbone - 
Place the end of a tape measure just below your eye to find the top of your cheekbone. Measure to the same point on the other side of your face. Write down this number.
Step 2: Measure Jaw Line
 - Feel below your ears to find the ends of your jawbone. Measure from the end of your jawbone to the other end around the bottom of your face. Write that down too.
Step 3: Measure Face Length
- Measure from the center of your hairline straight down over the front of your nose to the bottom of your chin. Write that one down too.
Step 4: Measure Forehead Width - Measure the width of your forehead from one side of your hairline to the otherside halfway between your eyebrows and top hairline. Write this measurement down too.


Once you have determined the size of your face by looking at your measurements and comparing them to each other, the next step is determining the shape. Take a look below and see which one of these categories matches your face.
Round
- These curves are kickin'! The round face has noticeable curves and less defined angles. The ideal sunglasses should lack curved features while emphasizing sharp angular lines that will help elongate your face and make it look thinner and sharper. This face group may benefit from high-on-the-temple, colorful sunglasses as well. We recommend rectangular and square styles, wrap sunglasses like Ray-Ban
Orbs
and
Sport Series
, and shield sunglasses like the Persol
003
and
009
are the keys to round-faced sunglass success.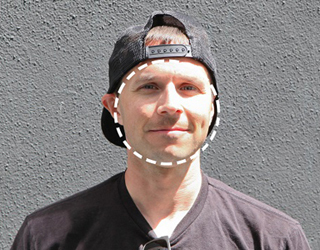 Square
- Square shaped faces—generally about the same length and width across the face—are characterized by a broad forehead and a strong jaw line. People in this category should choose sunglasses with round or oval shaped lenses that will help round out the sharpness of their features for a more balanced look. Examples of sunglasses that work well for this face include vintage Ray-Ban aviators or sunglasses that favor oval or circular curves such as Revo
962
sunglasses. Center or top set temples are the way to go with a square face.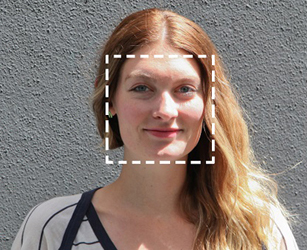 Oval - Oval faces have it made because literally every frame looks awesome! Oval faces have gently rounded, fairly even features, and pretty much any style of vintage sunglasses is going to work well on them. Designer to sport, fashion to function, everything works. Just don't get huge frames that block out those pretty symmetrical features; choose sunglasses that cover the face from the eyebrows to the cheekbones.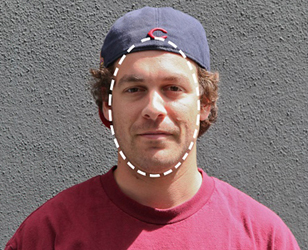 Oblong - Oblong faces, also called rectangular, are long and narrow with few angles. An oblong face works especially well with larger size sunglasses. Also, larger Wayfarer or rectangular lenses and sunglasses with thick frames add width to a long face. Vintage sunglasses styles that feature sharp angles and bold lines will give oblong faces an edge, sharpening otherwise soft features. This group is going to turn heads in Ray-Ban Wayfarer sunglasses in their amazing variety of frame and lens combinations and the oversized look of Carrera Porsche Design 5621 and 5623 sunglasses with interchangeable lenses or the ultra modern look of Bausch & Lomb Wings sunglasses. Oblong faces should avoid small frames.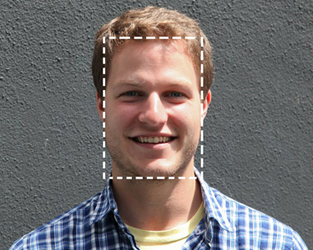 Diamond
 - Diamond-shaped faces are characterized by a narrow jawline and forehead with the cheekbones as the widest part of the face. Oval and rimless sunglasses will help complement wide or high cheekbones. Diamond faces should use sunglasses that feature gentle curves and should not be wider than the wearer's cheekbones. Ray-Ban
Sidestreet
sunglasses are a large, diverse group of frame and lens styles to consider here.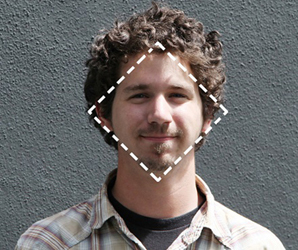 Heart - Heart-shaped faces, sometimes called triangle, are widest at the temples and narrowest at the chin. Sunglasses that feature wide lower edges with no straight lines along the top work especially well for this facial group because they shift attention downward and elongate the face. Cat-eye styles or sunglasses that feature rounded edges are ideal for giving the wearer a more balanced look. This face shape is a good opportunity to consider vintage Ray-Ban aviator and bullet hole shooter styles so you can enjoy the benefits of vintage Bausch & Lomb specialty lenses such as Ray-Ban Kalichrome, Ambermatic, and Chromax sunglasses and shooters.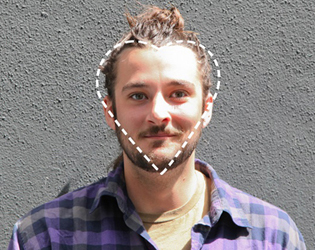 You can see all of our vintage sunglasses for men and women together on a single page of fast loading thumbnail pictures by visiting our Vintage Sunglasses Photo Gallery, or you can search by specific brands and styles by using the links on the right.
No Fakes, No Lies, No Reproductions, Save 10% Plus Free Shipping
Get cool and eclectic vintage fashion style and quality in men's and women's sunglasses, and don't be fooled by fakes. See our entire inventory of vintage Vuarnet sunglasses all on one page in our Vuarnet sunglasses photo gallery or with complete descriptions in our listing gallery.
Tell your friends about us on Facebook or Twitter, then enter promo code 444971 at checkout to save 10% on your entire order plus always free shipping in the US and subsidized express shipping worldwide.
We buy finer vintage designer sunglasses that meet our standards; learn how to sell your vintage sunglasses at good prices with no fees, hassles, or uncertainties.
Visit us on Facebook at Vintage Sunglasses Shop, Vintage Revo Sunglasses, and Vintage Vuarnet Sunglasses, and thanks for visiting and shopping at the Vintage Sunglasses Shop!